2015 Nissan Micra Headed For Canadian Showrooms
February 13 2014, 401 Dixie Nissan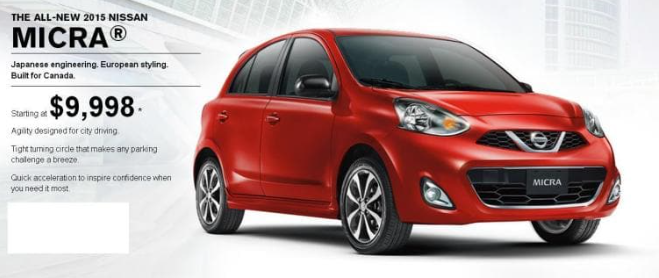 With the arrival of the 2015 Nissan Micra starting at only $9,998, Nissan has certainly demonstrated their understanding of good things coming in small packages. The innovative automaker debuted their latest offering at the Montreal Auto Show last week to great fanfare: a champion of small vehicles, particularly in its specific design for Canadian drivers and the conditions they're used to.
The 2015 Micra will be available in three models, the Micra S, SV, and SR, with either a five-speed manual transmission or four speed automatic transmission. The engine is an advanced 1.6L DOHC four-cylinder, with a dual fuel injection and Twin CVTC. It's a truly Canadian vehicle in every aspect, with specifications and features designed especially for Great White North living, such as the heated outside mirrors, rear heater ducts for backseat passengers, and tire sizes (15 or 16 inch) fit for winter tires. It's been thoroughly tested in Montreal as well-a place many Canadian drivers would consider the epitome of harsh winter driving.
Deemed the perfect entry-level car due to its "great visibility, impressive agility, and excellent turning radius"-not to mention its incredible price-the 2015 Micra could be a game changer for the automotive industry in its environment-specific focus. Said Christian Meunier, President of Nissan Canada Inc.: "[The 2015 Nissan Micra] is ready for Canada. And we think Canada is ready for Micra."