2018 Nissan LEAF Introduced
July 19 2019, 401 Dixie Nissan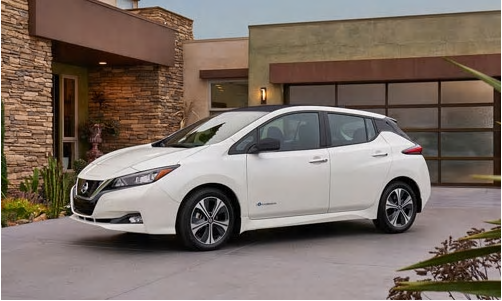 Nissan introduces the 2018 Nissan LEAF.
Nissan introduces the all-new Nissan LEAF, the next evolution in zero-emission electric vehicles. The new LEAF has been completely reinvented as it combines increased range with dynamic new design plus advanced technologies.
Technological innovations such as ProPILOT Assist and e-Pedal makes driving more enjoyable and safer.
"The new Nissan LEAF drives Nissan Intelligent Mobility, which is the core brand strategy for Nissan's future," said Hiroto Saikawa, president and chief executive officer of Nissan. "The new Nissan LEAF, with its improved autonomy range, combined with the evolution of autonomous drive technology, such as ProPILOT™ Assist and the simple operation of the e-Pedal, strengthens Nissan's EV leadership, as well as the expansion of EVs globally. It also has the core competency of future Nissan models."
Driver will be able to enjoy longer journeys with the new Nissan LEAF as it boasts a range of 241 kilometers. The new e-powertrain features 147 horsepower and 236 lb-ft of torque.
ProPILOT Assist, one of the driver assistance technologies can be used during single-lane highway driving while e-Pedal technology lets the driver start, accelerate, decelerate by just applying pressure on the accelerator. The car comes to a complete stop, even on steep uphill slopes, when the accelerator is fully released and regenerative and friction brakes are applied automatically.
Drivers will be able to access Apple CarPlay and Android Auto thanks to the available NissanConnectSM technologies.
The exterior design of the new Nissan LEAF includes a low, sleek profile which gives it a sharp, dynamic look. Excellent aerodynamics and styling also evokes the exhilaration of driving the new LEAF.
The new LEAF also features familiar Nissan designs such as boomerang-shaped lamps and V-motion flow in the front.
Drivers comfort has been given utmost importance as the new LEAF features a completely redesigned cabin with a clean, relaxed, high-tech feeling. The front panel is in the form of a "gliding wing" which is an excellent use of space with functionality.
Nissan also plans on offering a higher power, longer range version in the year 2019.
This new model is slated for deliveries in North American in early 2018.