Nissan and JD Motorsport organization announce the Nissan Micra Cup- Featuring Canada's most affordable car
October 14 2014, 401 Dixie Nissan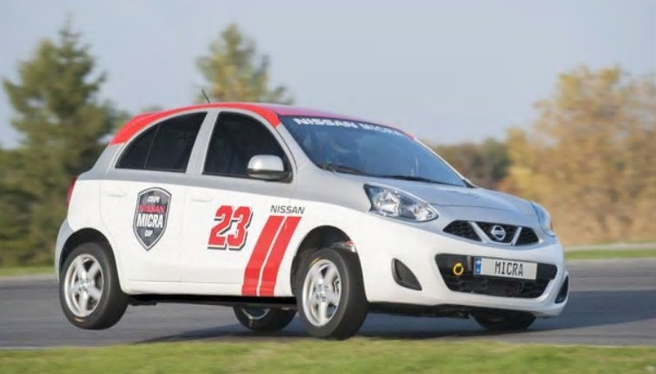 Mississauga, Ont./Montréal, QC
Nissan Canada Inc. (NCI) and JD Motorsport Organization today announced the launch of the 2015 Nissan Micra Cup in Quebec- an exciting one-of-a-kind racing series offering the lowest running cost of any Canadian series and featuring Canada's most affordable vehicle, the 2015 Nissan Micra.
Sanctioned by Auto Sport Québec (ASQ) and presented by JD Motorsport Organization with the support of Nissan Canada, the Nissan Micra Cup exclusively features the stock Micra 1.6 S M/T model with minor modifications, including NISMO suspension - to render it race-ready.
"The Nissan Micra Cup offers competitors the one of-a-kind opportunity to push the limits and hit speeds they never thought they could behind the wheel of Canada's most attainable vehicle, the Nissan Micra," says Christian Meunier, president of Nissan Canada Inc. "Nissan's heritage is intrinsically connected to motorsports and dates back to the 1930's. Therefore, we are proud to return to our roots in such a unique way, and in Canada! Through this collaboration with JD Motorsport Organization we have developed a highly accessible and extremely fun series for the Canadian motorsport enthusiast who has a dream to compete."
A car and motorsport series for the masses
The vehicles used in the Nissan Micra Cup are a brilliant blend of the proven, high-quality stock parts from Nissan, and some high-performance features to ensure the Nissan Micras are ready for legitimate track races. JD Motorsport Organization, in collaboration with Nissan and NISMO, worked extensively with a team of professionals at Motorsports in Action (MIA) to develop this special racing version of the Nissan Micra, which is constructed on the stock Nissan Micra S (base) model.
There are several parallels between the Nissan Micra Cup and its namesake vehicle, the Nissan Micra. Both the vehicle and the series have been tailored for Canadians, by Canadians. Both the Nissan Micra and the Nissan Micra Cup are easily accessible for Canadians for the respective aims. The Nissan Micra provides Canadians with low cost of ownership due to established reliability, and consequently, the Nissan Micra Cup offers its competitors with the lowest annual racing costs in a Canadian series.
Young karting drivers, the average Canadian looking for an entry point into motorsport competition, or anyone who wants to experience the rush of adrenaline inherent with racing cars are all well-suited to this series. In summary, the Nissan Micra Cup is for people who are passionate about motorsports, want to experience all the fun and thrills of racing, but without spending staggering amounts of money.